NU: Carnival - Idol Fest Arrives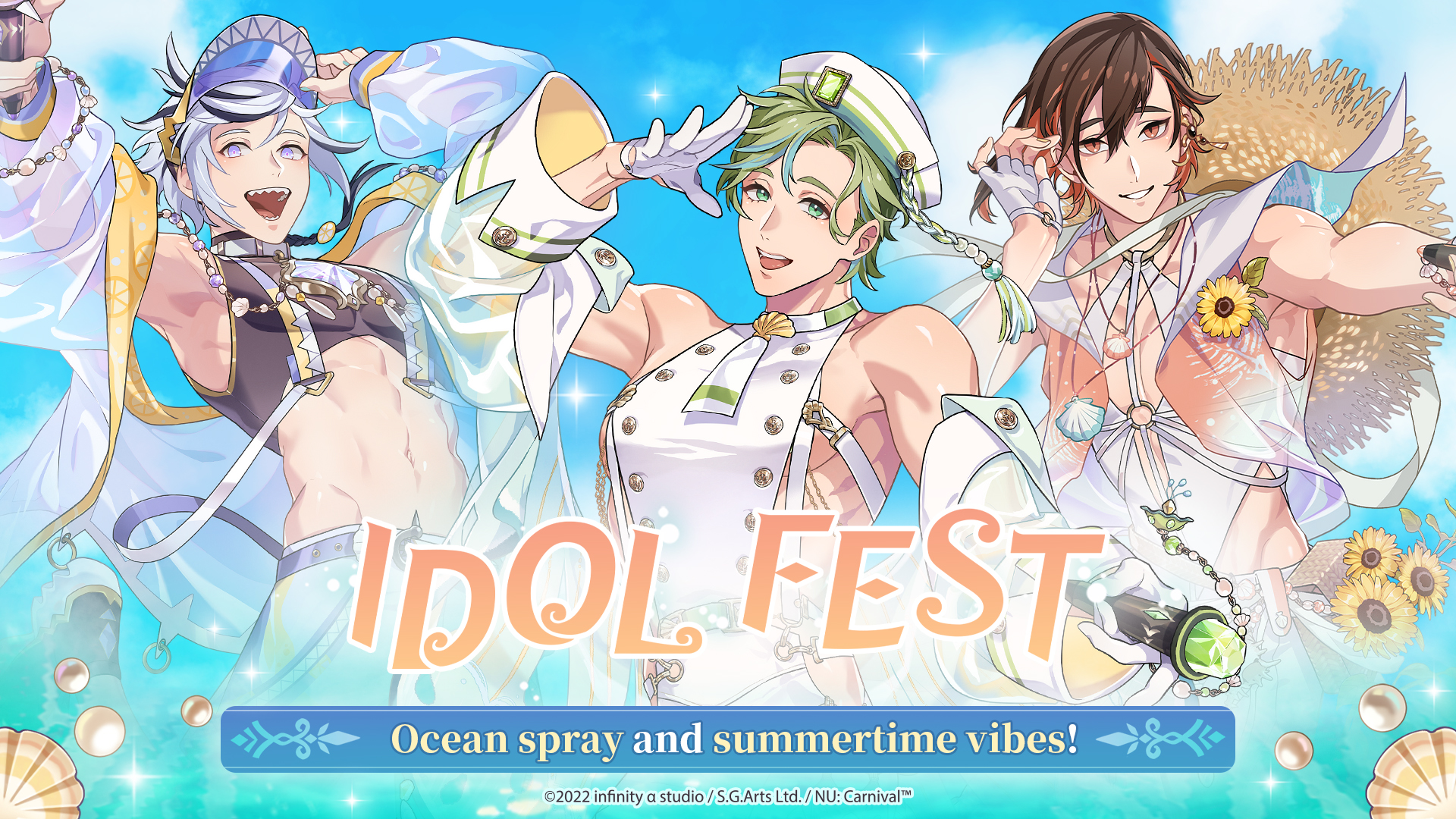 New Character Designs & Gameplay
NU: Carnival, the adult BL mobile game from studios Infinity Alpha and S.G. Arts, today (30th) sees the official release of a brand-new summer-themed event, "Idol Fest". During the event, Eiden takes on the role of agent to a brand-new idol group composed of Yakumo, Olivine, and Blade, aiding them in their quest to become Idol Fest champions!
This event will also see the release of new limited-edition, boosted-odds SSR units for Yakumo, Olivine, and Blade. Fans of these clan members will have the chance to collect their favorite allies in new and exclusive summer-themed outfits
A Brand-New Star-Studded Idol Adventure
Suffering constant monster invasions from the nearby Dead Zone, the farmers of Yakumo's home village are in dire straits. Left with no other choice, Yakumo, in an attempt to turn his village's fortunes around, joins Olivine and Blade to take part in the kingdom's idol contest, "Idol Fest". Fighting for the top prize, this charming trio takes on a whole new challenge in this latest fun-filled adventure!
[Ocean Breeze - Yakumo]
Setting out on the path to idolhood, Yakumo begins performing in front of crowds of adoring fans far and wide. However, as the group reaches the seaside, they notice the coastal winds carry an unusual cry. Now, the fans are afraid to go near the beach and even Yakumo is feeling the effects...
[Radiant Admiral - Olivine]
With his unending kindness and a strong sense of responsibility, Olivine was born to be an idol captain. However, in between looking after his teammates and accepting each and every fan with open arms, could he be taking on a little too much...?
[Idol Apprentice - Blade]
Trying his best to piece together the relationship between an idol and their fans, can the path to idolhood lead Blade to unlock the secrets behind human emotions...?
Explore the Map, Collect Resources & Boost Your Allies!
The "Idol Fest" event, available from June 30 to July 28, brings with it a brand-new gameplay system. Players will be required to play through a map split into a series of blocks. Each block contains a stage or certain conditions that must be completed in order to move forward. Clearing a block allows players to unlock adjacent blocks and progress the story. Also, players will be able to collect materials to raise the "Boost Level" of their allies and gain an advantage in event stages.
Clearing stages and progressing through the story will allow players to collect "Idol Fan Boards" which can be exchanged for Essence Contracts, Crystal Cores, Raw Crystals, and other fabulous rewards. Don't miss this chance to get your hands on the brand-new "Idol Fest" SSR units, plus the exclusive intimacy gift, "Summer Score"!
Log In to Collect Tons of Great Rewards
During the event, players will be able to collect awesome rewards each day they log in to the game. In addition, this event brings with it a brand-new gacha mechanism. Players will receive rewards for reaching certain contract targets, and, upon reaching 120 contracts on the specified banners, will receive one of the new limited-edition SSR units.
必玩推薦