NU: Carnival's First-Anniversary Event - Forest Carnival!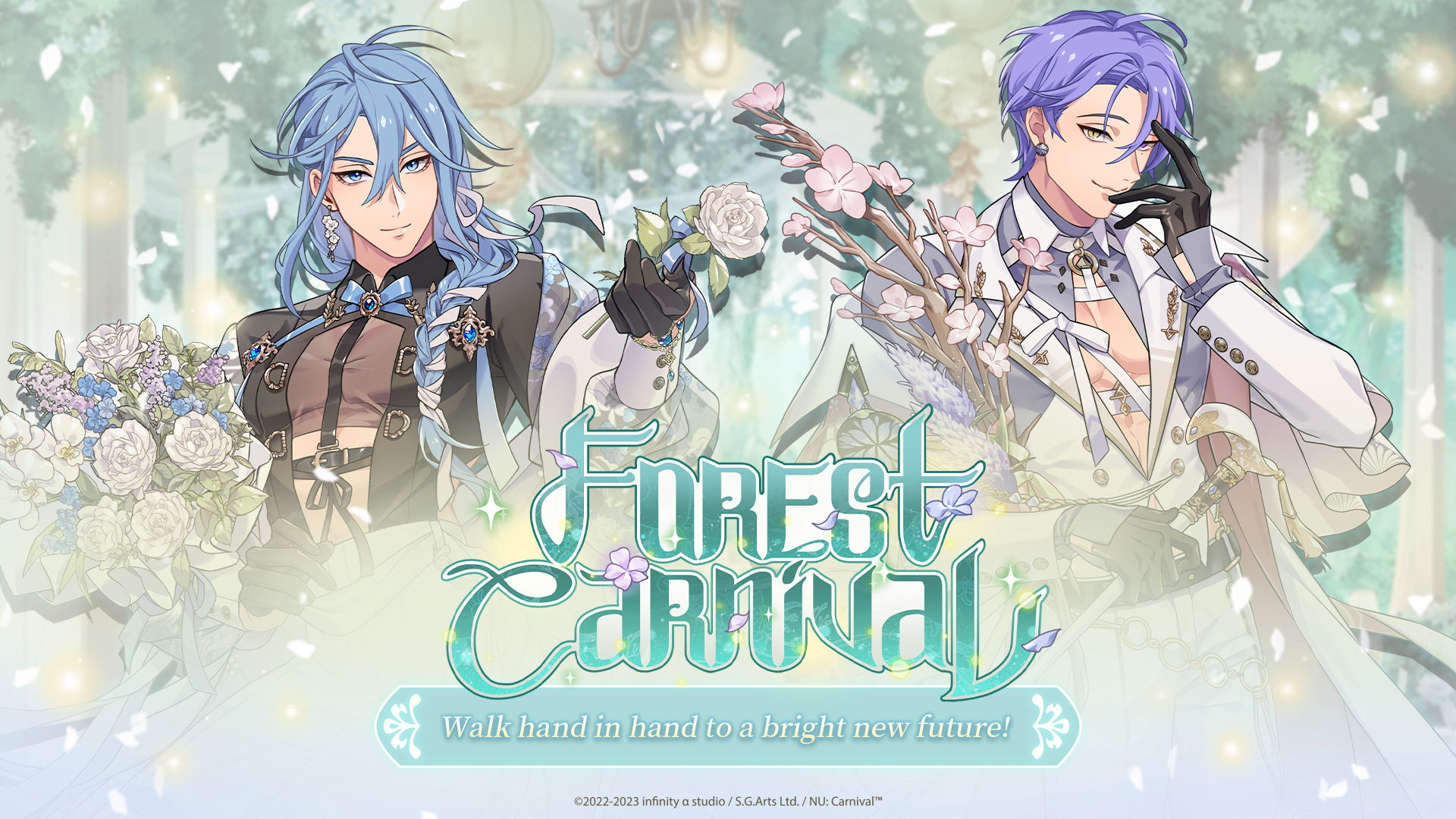 Infinity Alpha and S.G. Arts, developers of BL game NU: Carnival, today (23rd) officially announced the opening of the first-anniversary celebration event Forest Carnival. This latest event introduces two brand-new and exclusive ★SSR units for clan members Edmond and Kuya. The update also includes a new two-way dialogue feature between Eiden and your chosen home screen ally. Head on over to the Klein Continent and celebrate in style!

Dressed All in White, It's Time for a Tea Party Like No Other!

While at Passion Café—a whole year since it first opened—tasting the chef's latest chocolate creations, Eiden, Edmond and Aster encounter a most unusual customer... After learning of the motives behind this special guest's visit, a bold new idea takes form in Aster's mind...

Exclusive Storyline! Brand-New ★SSR Units Take Center Stage!

The event-exclusive STEP banner Springtide Trails will be available until Mar 23, offering boosted odds on ★SSR Spring Chaos - Edmond and ★SSR Afternoon Daze - Kuya. Accumulate 300 contracts on the banner to receive a special item allowing you to take your pick of any one of the two exclusive units!

★SSR Spring Chaos|Edmond

"Here, this is a gift as thanks for your help... and for watching over me."

Devoted, dutiful, independent... Noble sentiments soon become powerful shackles, impeding Edmond at every turn. Seeing his plight, Eiden gathers the strength of the knights in an attempt to become a shoulder the Vice-Captain can finally lean on...

★SSR Afternoon Daze|Kuya

"How about enjoying a tea party inside an illusion?"

With a bored Kuya getting in the way of the tea party preparations, Eiden attempts to divert his attention and makes an interesting observation. As spring approaches and life begins anew, perhaps a whole new possibility lies on the horizon...

New Feature - Unlock Exclusive Interactions!

This latest update brings with it a brand-new Eiden's Wardrobe feature, allowing players to dress home-screen Eiden in event-exclusive outfits! What's more, a new Two-Way Dialogue feature has also been added! By placing Eiden and any clan member or familiar on your home screen, you'll be able to enjoy brand-new and exclusive dialogue. Change Eiden's outfit to unlock even more exclusive interactions!

Clear Forest Carnival stages to collect event points in the form of Party Blossoms to exchange for the all-new intimacy gift Honey Charm and many more amazing rewards! In addition, during the event, each player will be able to enter into 50 free contracts on the selected banner. Enter Forest Carnival, play through the story, and make this a first-anniversary to remember!
必玩推薦