New character release: Randille, "the Descendant Wannabe"!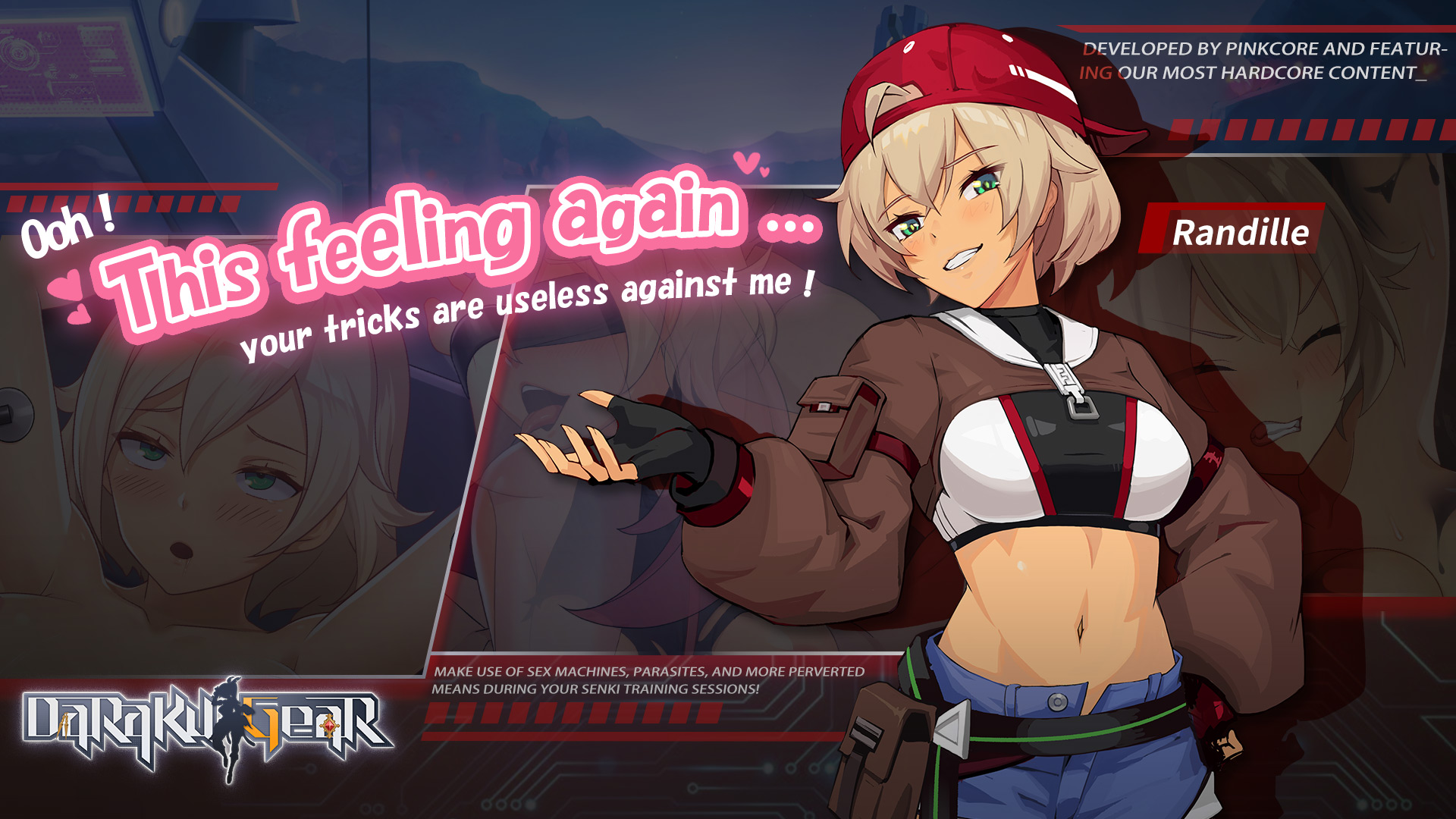 Erotica Handheld Game Daraku Gear April 1 Surprise: Collaborative Event with Shenshi & Squirt Pew in the Works!
Today (Apr. 1), developers of Daraku Gear announced a special April Fools collaborative event with two other erotica games—Squirt Pew and Shenshi —will be taking place on Feb. 31, 2202. Popular characters T3-5 and Momona will make cameo appearances on Daraku Gear, and a new collaborative stage will be released, too. Calling on all Descendants to give these girls a taste of our Gear training!
To celebrate this momentous event, we've prepared some goodies for all our players! So go log in and input the bundle code DG22020231, and snag our mystery gift!
New character release: Randille, "the Descendant Wannabe"!
A new character, Randille, will be joining other Daraku Gear Senkis on Mar. 22, 2022. Randille's many years of acting like a bold and brash man are actually a front, concealing her tenderness and lack of confidence. She was orphaned before being adopted by Batezar, Kur'tania's only Descendant, who she adores so ferociously that she'd go through hell and back again for him, despite her own lowly background.
After Batezar's mysterious disappearance, however, Randille attempted to safeguard Kur'tania by taking the role of a male pretender god in his place. Unfortunately, with Lantis' ruthless expansion, her glory days soon came to an end when she was imprisoned by Ekram in the factories of Kur'tania, where she was exposed as a woman and defiled over and over.
Its strength grows with each blow! Randille's Exclusive Gear is here—Painbringer!
After thorough training from Ekram, Randille now openly embraces her previously concealed fetishes. However, mere female pleasures no longer satisfy her, so Xinthia has used her Smart Brain to assist Randille in designing her Gear's internal structure.
Not only is there an electrified double-headed dildo installed in the cockpit, but also a masturbation set especially designed by Ekram himself. These upgrades liberate Randille's inner passions, allowing her to fight on the battlefield while also satisfying her sexual desires.
Just as Randille's inner self is being liberated, so is the great potential of the Painbringer, which seeks out enemies with its massive ax - a manifestation of Randille's pleasures - and slices right through any obstacle in its path.
For the Painbringer, there's no greater sin than not being true to one's desires.
Carnival Frenzy:Randille's lustful desires are endless, unleashing Painbringer's raw power. Increases Defense and Damage by 25% and Critical Hit Rate by 20% for 8 seconds!
Challenge yourself in this high-difficulty "Road to Demonopolis" event and claim bountiful rewards.
Ten new highly difficult Event stages will be released in Road to Demonopolis, specially designed to challenge players' Gear line-up and abilities. Players clearing the stages for the first time will earn tons of rewards, and even collect Lustant Core to claim Trophy rewards, making this a the perfect event for Descendants who aren't afraid of intense battles!
人氣遊戲