Newest Event Eerie Escapade is Officially Open!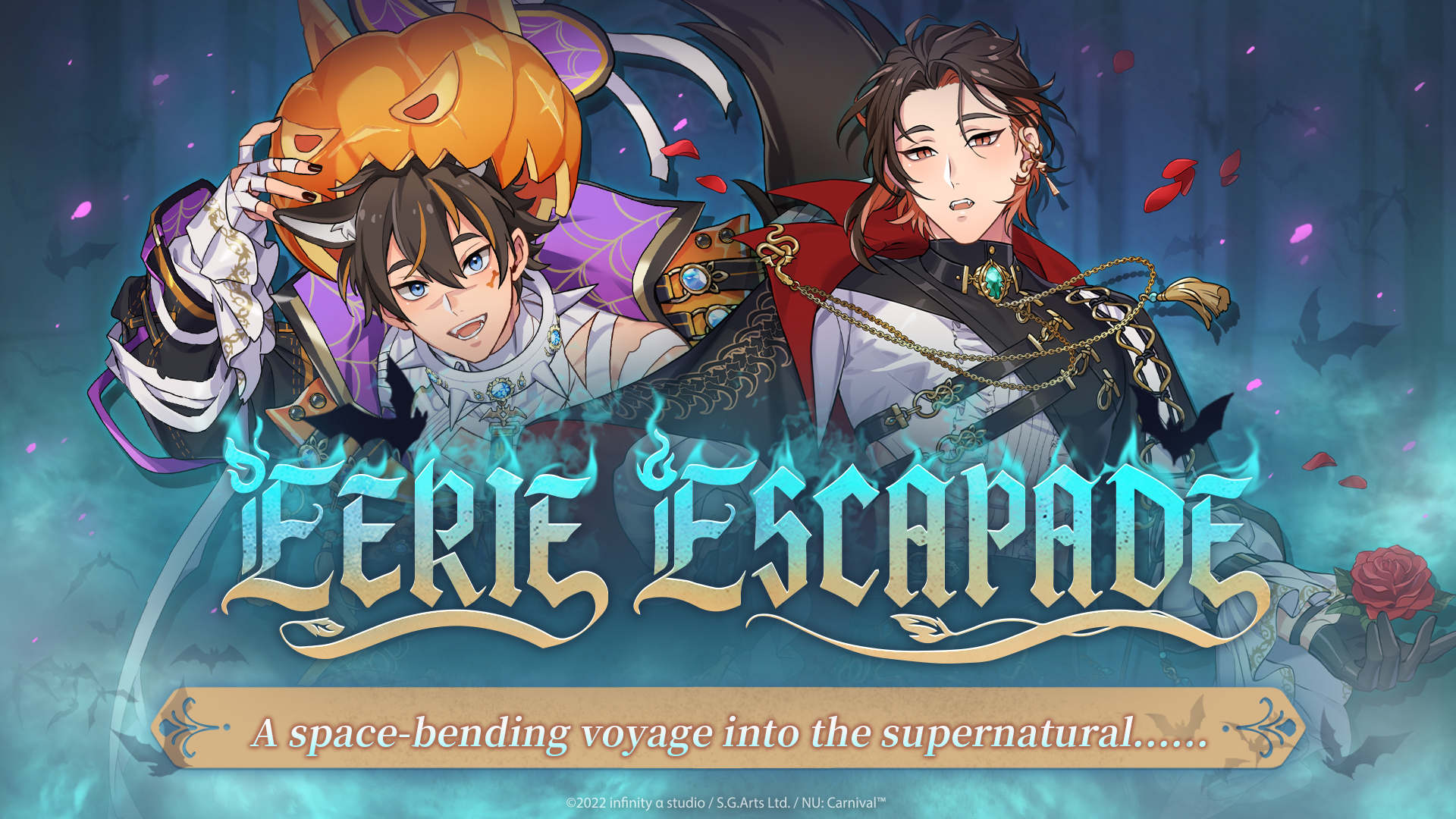 Infinity Alpha and S.G. Arts, developers of BL game NU: Carnival, have today (20th) officially announced the opening of the brand-new event Eerie Escapade. Not only will players have the chance to get their hands on limited-edition SSR cards during the event, there will also be tons of special items and rewards up for grabs!
No matter how hard he tries, a hungry Eiden out in search of breakfast just can't find his way to the dining room! A stressed-out, teary-eyed Aster soon comes along to let Eiden know the space-bending spell on the mansion's doorways has gone totally bonkers. What's worse... monsters from the Dead Zone have started pouring in! Eiden and his clan members search for a way to fix the spell, uncovering one of the mansion's long-lost secrets in the process...
New Event Story! Limited Edition SSRs Have Landed!
For the duration of the Eerie Escapade event (Oct 20 - Nov 10), limited edition SSRs for both Yakumo and Garu will be available with boosted odds. What's more, players who accumulate 300 contracts on the new Spectral Charm banner will receive an item allowing them a choice of either banner-exclusive SSR!
[Crimson Phantom|Yakumo]
"Once I set eyes on my prey, there's no escape."
Peace might have been restored to the mansion, but Yakumo notices a change in both his body and mind. Before long, he witnesses the insuppressible serpent impulses lurking deep within his soul staring back at him in the mirror. With his wildest desires exposed, how does he plan to go on...?
[Howling Cyclone|Garu]
"As Master always says, by working together, we can overcome any obstacle!"
Adventuring with his Master brings back memories of Garu's old mentor. Noticing the wolf yokai's blue mood, Eiden comes up with a detailed plan of action. As Garu, taking on the role of a heroic captain, and the unrelenting Karu unite, a heartwarming surprise lies in wait!
Work Together With Your Clan Members to Unlock Extra Stories!
Make sure to log in every day during the event to collect the specially prepared daily rewards! Enter the event page and clear the stages to collect event points in the form of Adventure Hearts—as well as the special event item Pampo Candy! Adventure Hearts can be exchanged for tons of great rewards, with a chance to get your hands on the brand-new intimacy gift Fancy Dress Coupon. What's more, give your Pampo Candy as a treat on the event page and once the global target has been reached, you'll get the chance to enjoy extra stories and artwork! Time to grab your clan members and unravel the space-bending mysteries of Eerie Escapade!
PV:https://www.youtube.com/watch?v=on26bqpk3G4
For full event details please see the official NU: Carnival website, Facebook page, or Twitter account
必玩推薦