Preview for 01/09/2022 Version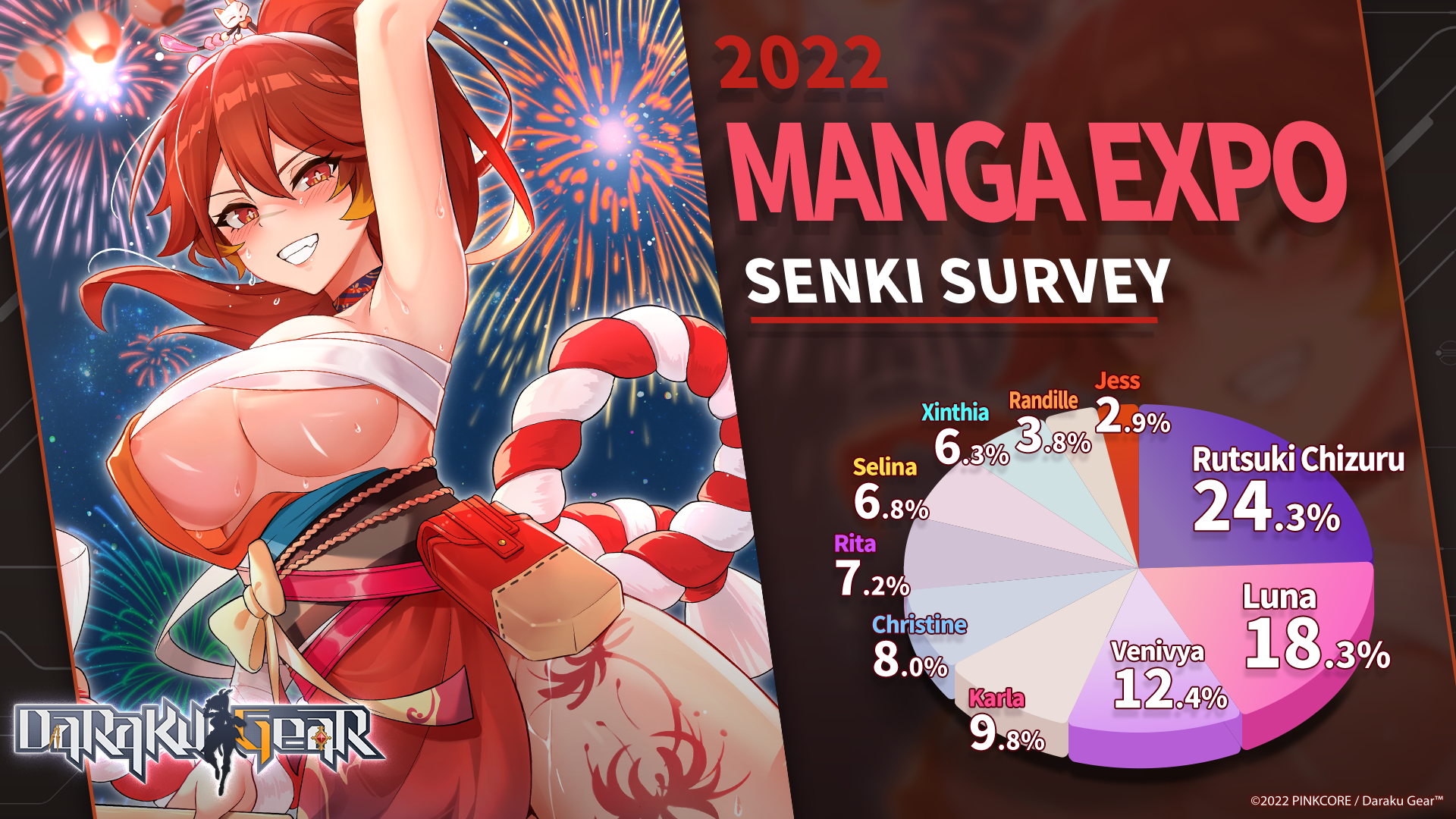 Greetings, Mighty Descendants.
How was your playtime this Summer? Take in some nice views?
Those four Senkis had some sweet swimsuits, but it seems most of you couldn't get enough of Ryu. And of course, who could forget those adorable beach crabs?
It honestly warms our hearts to see so much support and approval from our fans.
But alas, Summer inevitably leads to Fall, and the Daraku Gear team is ready to unveil exciting changes for the upcoming season. So, let's take a look-see!
Permanent Event Stages
As we release the next event stage, previous ones will be made permanently accessible. This way new players can experience Daraku Gear's past successes and veteran players can sip a good ole cup of nostalgia.
Of course, these newly added permanent events will still provide one-off trophy rewards, leaving players with souvenirs after going down memory lane!
Our team is currently working day and night on these updates, so stay tuned for related announcements!
Mid-Autumn Event
The year's third season is nigh upon us, and boy, do we have ideas!
As the saying goes, "the mid-autumn moon calls people to gather," and the same applies in the world of Daraku Gear.
But some evildoers will always waltz in uninvited and muck things up, like opening up a giant time rift at the Devil's Crossroads!
According to egend, the white celestial disk brightening Nymph's night skies possesses a bounty of unique Lustite unlike any found on the continent. But in its cold, desolate environment, a mysterious alien species exists, crawling about in the darkness.
Throughout Nymph's long history, not much news has been heard coming out from the Devil's Crossroads, and the few pieces of historical information that were recorded are considered to be mere stories that are impossible to prove real…
Will Ekram and his Senki entourage thrust themselves into intimate relations with these extraterrestrial organisms? We'll have to stick around and see…
Mid-Autumn Special Event - "Secrets Under the Moonlight" is currently under construction. Stay tuned!
New Mode - Senki Arcadia
After the success of Senki Heaven and Road to Demonopolis, the Daraku Gear team plans to add another game mode to an already dynamically diverse roster.
This Autumn, we're so excited to usher in a brand-new event mode—Senki Arcadia.
Below are a few sneak peeks of this top-secret project.
On the continent of Nymph, apart from all the lands conquered by Descendants and weaponized Senkis, there are still other terra incognita—virgin lands awaiting discovery and exploitation—filled to the brim with lustful resources. Players need not an arsenal of weaponry so much as a pioneering spirit to plunder them.
Ekram may seize this region to reward his harem with a place of wondrous respite from the daily training and fighting.
For this reason, fellow Descendants are needed to help carve a new path of adventure during this event.
Use all tools at your disposal to harvest the resources that abound this new land.
After meeting certain conditions, players can unlock materials unique to this paradise to face any situation, and claim rewards hidden across Senki Arcadia.
Along with this new mode, Descendants can visit Senki Arcadia to relax with their Senkis, "plow" for… resources, and uncover all kinds of goodies.
After this event, we'll be unveiling a Halloween special, too!
Keep an eye out for further details later on!
More Options for Main Story and Event Plotlines
To provide a more interactive gaming experience, players will be able to choose between different plot options in both the main storyline and event stages.
Likewise, our team is planning to give more choices to players to determine the outcome of Memory scenes' storyline, making the relationship between Descendant and Senki feel more unique. More details to come in future announcements.
Changes to Guild System
A new guild system is also planned in future Daraku Gear updates.
Changes to the system are geared towards helping Guildmasters better understand their guild member's level of participation. Apart from making it easier for them to manage their membership, these modifications will help make guilds themselves become more interactive and engaging.
Not only will guilds' profile Senkis start reflecting their Guildmaster's own training progress and be able to wear skins available to the Guildmaster, but we also plan to add a cooperative style of gameplay that lets Guild members earn collective rewards.
More will be revealed about these new developments in future announcements, so don't miss 'em!
Optimizing Senki Heaven's Ranking System
The ranking system for Senki Heaven was a full-server ranking list which, after much consideration, we realized might make some players feel their progress was not being reflected correctly. Therefore, the system will be divided into different rankings in order to let players of different levels of advancement shine through among their equals.
Further information surrounding these optimizations will be announced in the future!
Changes to Exclusive Gear Rarity
We've observed that SR and SSR Exclusive Gears are the most frequently deployed in battles, so they will remain in-game next time we roll out "limited non-event" Exclusive Gears, and will no longer release "limited non-event" R-rarity Exclusive Gears. This is to allow players to make better use of their resources, and more effectively face Senki Heaven's highly competitive stages and the challenging ones found in Demonopolis and other event series. We expect these changes will help players cultivate their favorite Senkis and Gears more intensively, thereby enhancing the overall strength of their squad.
Manga Expo Senki Survey
Last item on the list concerns the short survey offered during a previous comic-con.
We are incredibly thankful to everyone who engaged with our Daraku Gear booth at the convention, and appreciate you casting your sacred vote for most beloved Senki.
Those who participated used the serial number given to claim a limited-edition, animated background.
To thank all our fans for your support, this animated background will be available to everyone at a later date for exchanging at the in-game Shop!
Without further ado, the much anticipated results of the survey are! (See below…)
You all know her! You all love her! The cream of the crop!... Ryu, the Unrivaled Senki!
During the summer event, expectations for her were already high, so her win is definitely well deserved!
Trailing right behind her, the rich chick from East Oen… it's "Mega Blaster" Luna! She's certain to return the favor to our fellow Descendants for granted her such an honor!
Last place in this historic election is none other than… Jess! She came in—guns blazing—with a new ride, a femme fatale attitude, and a hot get-up (did you notice anything special on her attire?).
It's a bit unfortunate for her to finish last since the survey had ended before the launch of Seven AI Overnight.
However, she's likely to make up for it in the next survey and recover her former glory!
"Tracker Hound" Jess, the face of Daraku Gear, is set for a comeback to teach Descendants a lesson in perseverance!
So that's all for our update preview. Once again, we are immensely thankful for the Descendant community's support. We will continue working tirelessly to perfect Daraku Gear's gameplay quality and add more amusing in-game elements (more crabs, please?). Ekram's crystal ball says the future is bright, for a world with sexy Senkis is a world worth fighting for!
- Daraku Gear Team -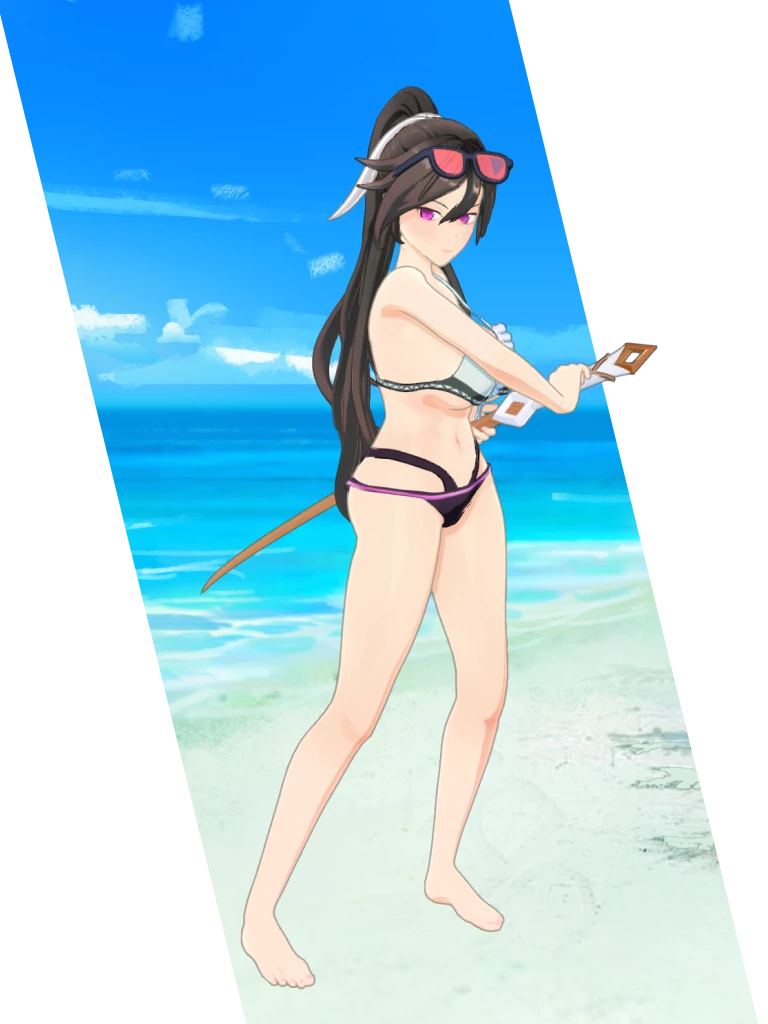 人氣遊戲